The summer before junior high I was invited to a week-long leadership camp. It was ridiculous really, unless you counted leadership as speaking way too often in class. Certainly nobody had ever followed me anywhere. The day camp, however, did have the happy effect of giving me a ridiculous amount of confidence in my own ability and within two weeks of entering the 7th grade I had thrown my hat in the ring to run for student office.
The result was somewhere between dismal and abysmal. I cried for at least an afternoon over it. The same scenario repeated in the spring when I ran for 8th Grade office. And the following spring as I ran for Student Body and 9th Grade office. My perseverance was finally rewarded in the form of Pep Club Vice President. It is highly likely that I was running unopposed at that point.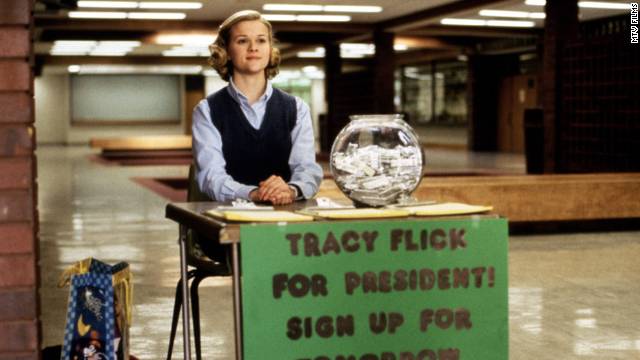 As if my junior high failures weren't enough, I didn't make class office or student body office in high school either. This time around the consolation prize was Drama Club Publicity Officer. If you aren't keeping track, that's okay. It is enough to know that it was a whole lot of running without crossing the finish line first. Still, years of hard work paid off and my academic ship came in during those last months of high school. Popularity might have evaded me entirely, but there were academic accolades, awards, scholarships and acceptances.
But it wasn't until I began college in the fall of 1993 that the important lessons from all that failure finally began to sink in. I didn't go very far from home, and one of the girls in the apartment down the hall had gone to high school with me, graduating the year prior. She was, in truth, the girl I would have been if I could have chosen. Outgoing. Fun. Enthusiastic. Popular. Cute. Datable. She had, in her turn, held each of those offices I had so diligently sought after. She also happened to be a very genuinely nice person.
In the winter we both happened to be taking the first in a series of difficult chemistry classes. After the first test, she confided to me that it was the third time she'd taken the class because what she really wanted was to major in nutrition and go into dietetics. I could see her being excellent in a career like that and told her that I thought she'd made a good choice. She then told me she was probably going to look into something easier because the chemistry was just "too hard." She cited her recent terrible test score as evidence.
I agreed that it was hard. But too hard? The professor was open to office hours and had a whole team of TA's working for him. There was free tutoring and supplemental instruction. Any of the myriad study groups (especially the co-ed ones) would have been more than happy for the addition of my friend.
As we talked, I realized something about myself. Once I decided what I wanted, there was no way a single class was going to keep me from my dreams. I had learned from my many high school failures that you cry a little, pick up and move on. Without question. Without hesitation. Without too much dwelling on what can't be changed.
Eric Hoffer said, "Our achievements speak for themselves. What we have to keep track of are our failures, discouragements and doubts. We tend to forget the past difficulties, and many false starts, and the painful groping."
Our resumes are full of remarkable achievements, but I contend that the person who is something more, is the person whose failures are not forgotten, but transcended.
The shadowy resume of our darkest days is the one that forges a person of worth and determination. These things aren't written down, but built upon.
The irony is that the leadership I had so craved in my teen years, came to me in spades a couple of years later.  Yet when the big opportunity came, with voices behind me telling me that THIS was my moment. The recognition I had long sought was finally within grasp, I walked away from it. I stepped from the self-centered limelight and into a life of service in another country. At times during that service, I experienced rejection and failure on a scale even I had never before experienced. But the lesson was the same: cry a little, pick up, and move on. When I became the most deserving of the plaudits was precisely the moment when I ceased to need them.
What lessons have you learned from failure?
How can failure be an important stepping stone towards our dreams?
How do we turn failure into something positive to be learned from instead of something to tear us down?
Nan Petersen is teacher turned stay-at-home mom in Eugene, Oregon who is still trying to decide what to be when she grows up. To that end she spends her non-mom time reading and writing and pursing a master's of education in instructional technology. Her mom time is spent with Cub Scouts, karate, gymnastics, volunteering at her kid's school and searching the Internet for recipes her kids might actually eat. She blogs about books, parenting, politics and education at http://scienceteachermommy.blogspot.com"